Any.DO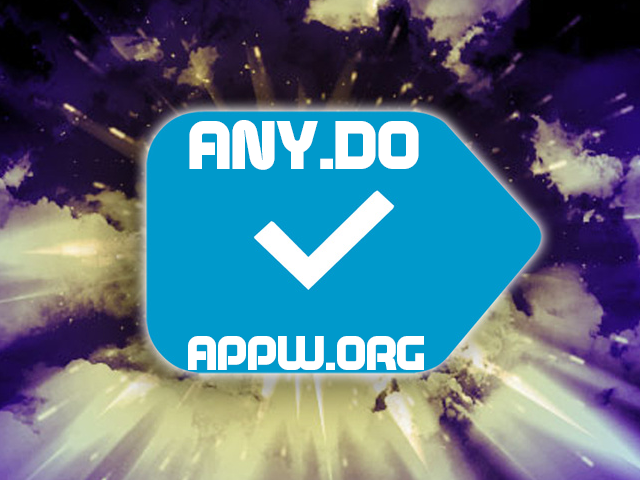 Any.DO has always been a favorite here at AppW.org in the productivity category. Although it isn't #1 on our list is definitely merits a mention. It's feature packed and best of all it's free. Any.DO a free android app offers some great features and a sharp design that will help you to keep to your to-do list, and feel great during. It's fast, good looking, and intuitive.
One of our biggest gripes with Any.DO is that their documentation can be lacking at times. This is easily remedied by accessing their online FAQ  which happens to be much more robust. Also, some of Any.DO's best features can be tricky to find at first. You have to know just how to tweak your t0-dos just so to access them, Here are a few examples.
Download the free android app Any.DO here!

Any.DO Reminds You to Return Missed Calls
If you've used Any.DO long enough to miss a call on your Android phone (sorry, iOS users), you've run into this already. If you're shopping around for to-do apps and they all look the same, this feature is a pretty strong differentiator. After you miss a phone call, Any.DO pops up over the bottom of your screen alerting you that you missed the call and offering to call them back for you, or remind you to call them later.
If you've already installed Any.DO long enough to have missed a call on your Android enabled cellphone. (iOS does not support this feature quite yet) You may be familiar with this feature. This is one of the strongest pros that Any.DO has that sets it apart from other to-do apps. If you happen to miss a phone call, Any.DO will display a pop-up at the bottom of your screen alerting you that you missed the call and will give you a few options such as: calling the third-party back for you, reminding you to call them back later, or even sending them a text message.
There is also the option to dismiss the alert, call the party right away, tell them you already called, or even command Any.DO to create a reminder to call them back in a few minutes, hours, or days. Snoozing the alert will prompt it to pop back up at  a later time. The reminder will also live in the Android notification bar and can be access from there. For us this means that we will never forget to call Dad back ever again!
Send Quick Text Messages to People You Can't Talk To Right Now

In the same way that the  missed call feature works, Any.DO can be used to SMS someone you can't talk to, either because you don't want to answer the phone or because you're already on the line with someone else. If you already have a call in progress and you get another incoming call, you'll get an on screen notification that includes "Send Text." Any.DO will offer some messages ready to send, like "Can't talk now. What's Up?" or "I'll call you right back." If you prefer, you can type out a custom text instead of choosing one of the templates.
Shake Your Phone to Clear Out Finished To-Dos
This feature functions on all devices. If you have a bunch of completed to-dos in Any.DO and you want to clear them so you can focus on the work you have left, simply shake your phone. It's not a groundbreaking feature, but it is clever, and a quick shake will bring up a prompt to clean out your completed items. Press yes, and you're only looking at what's in front of you. You can always view your completed to-dos again by going to settings, and tapping "Done Tasks."

Download the free android app Any.DO here!